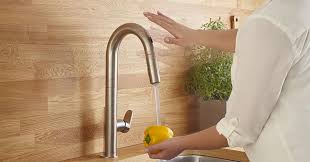 Are you ready to give your home or business the upgrade it needs? If your kitchen or bathroom wants a quick and easy makeover, install a touchless faucet today! These handy home and bathroom components take convenience to another level. In addition, they look incredible! If you want one installed at your property, HoneyBee Plumbing is here for you. From toilet repair to touchless faucet installations, we can handle it all!
HoneyBee Plumbing proudly serves a variety of towns and cities in Florida. We cater to residents and commercial property owners in Milton, Pace, Century, Navarre, Holt, Baker, and the entire surrounding area. Call us today to learn more about our wide service area!
Hot Water That Lasts: Gift Your Loved One a Touchless Faucet
Who doesn't love hot water? But when you're dealing with faucet or plumbing issues, you may experience cold water or other frustrating problems. Therefore, you need a new touchless faucet installation from HoneyBee Plumbing! A brand-new faucet can eliminate any current problems you're having, leaving you with an effective and reliable water source.
A touchless faucet is also a great thing to gift! While these faucets can improve water flow while looking amazing, they're also the perfect gift for anyone! These products can even help with cleaning. When you have a well-functioning faucet, you'll be able to keep the house cleaner with fewer messes.
Innovative Plumbing Techniques
HoneyBee Plumbing is happy to employ very experienced plumbers that use industry-leading techniques for every job. And when it comes to our warranty, we offer the best in the business! We provide a one-year warranty on parts and also one year on labor.
Here at HoneyBee, we can do more than just stop leaks. We can also eliminate drips, noises, low water pressure, and spraying that comes from your faucet.
Buy the Perfect Gift Today!
If you want to put a smile on someone's face, a touchless faucet from HoneyBee can make that a reality! Also, our team can easily help you gift this fantastic product to your family or friends.
"Great plumber, they did an awesome job installing my new toilet and replacing all the parts would recommend them to anyone who needs a good plumber."
After calling us for our new touchless faucet installation, leave a review and tell us how we're doing!

Posted in
Baker, FL
,
Cantonment, FL
,
Century, FL
,
Chumuckla, FL
,
Crestview, FL
,
Destin, FL
,
Fort Walton Beach, FL
,
Gulf Breeze, FL
,
Holt, FL
,
Jay, FL
,
Milligan, FL
,
Milton, FL
,
Navarre Beach, FL
,
Navarre, FL
,
Niceville, FL
,
Pace, FL
,
Pensacola Beach, FL
,
Pensacola, FL
,
Perdido Key, FL
,
Shalimar, FL
,
Valparaiso, FL
|
gift
,
installation
,
touchless faucet