Water Heater Repair and Installation
Homeowners can expect their water heaters to last 8 to 12 years. Proper installation and maintenance, however, can extend your water heater's life. The next time you need water heater repair or water heater installation, hire a professional plumber who knows the best methods for your model.
Water Heater Installation From Honey Bee Plumbing
The correct way to install a water heater varies from model to model. Electric water heater installation, for instance, uses a different process than installing gas-powered, tankless, heat pump, and condensing water heaters.
Honey Bee Plumbing has years of experience installing different types of water heaters. That experience makes it possible for our professional Honey Bee plumbers to give you the services that you need.
By choosing Honey Bee Plumbing for your water heater installation, you can expect your equipment to work more efficiently and last longer.
Water Heater Repair From Honey Bee Plumbing
Eventually, all water heaters need maintenance and repairs. Only well-trained Honey Bee plumbers can diagnose a water heater to decide what type of repair it needs. Several malfunctions, for instance, could cause your water heater to leak. When you hire a professional, you get an accurate diagnosis that makes the problem easier to solve.
Honey Bee Plumbing also has quality replacement parts that can keep your water heater in top condition for years. Just because your water heater is starting to show its age doesn't mean that you need to buy a new one. The right repair part could give you several more years of hot water.
Professional Water Heater Installation and Repair From Honey Bee Plumbing
Don't risk hiring plumbers that don't have enough experience to install and repair your water heater. When you hire Honey Bee Plumbing, you get professional work from a licensed, insured plumber who has worked with numerous types of water heaters.
Honey Bee Plumbing also gives you a one-year warranty on parts and labor. If a repair part breaks within a year, then we will replace it for free.
With Honey Bee Plumbing, you even get a 100% satisfaction guarantee. If you're not satisfied with any aspect of your water repair or installation, then we will find a way to solve the problem.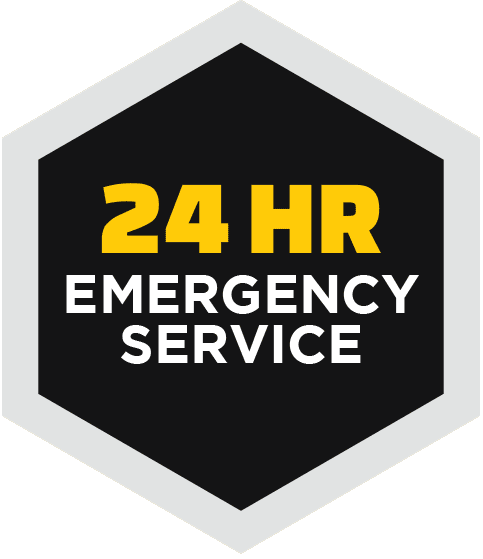 24 Hour Emergency Service