Sewer Drain Repair & Installation
Sewer drains often suffer damage from tree roots, structural defects, clogs, and surges from the city's sewage system which is why Honey Bee Plumbing is the safest option for your sewer drain repair and installation services. It's almost always deep underground, where homeowners and amateur plumbers can't reach. So, it's vital that you reach out to a skilled plumber to diagnose and resolve the problem. Otherwise, before you know it, it will get much worse.
Honey Bee Plumbing professionals are standing by to help you with any sewer line issues. We inspect, evaluate, and repair common sewer drain problems. Often, installing replacement pipes is necessary to fix the problem. Our plumbers perform this work with skill and minimal damage to your property.
Does Your Sewer Line Need a Professional Plumber?
Old sewer lines are vulnerable to failure. If your sewer lines are more than 25 years old, you may be experiencing some troubles. The following issues may point to a serious sewer line problem:
Blocked drains
Sewage backups
Springy, damp flooring
Pools of septic waste in your lawn
Gas odor
Mold
Slow, boggy drains
Indentations in your lawn or hardscaping
Lush, green patches of lawn (due to the fertilization properties of sewage)
Cracks in your foundation
Sinkholes
Infestation of rodents and/or insects
Higher water bills
If you notice any of these signs, call our professionals to schedule a sewer line inspection.
Sewer Drain Repairs
Professional sewage drain repair involves technical equipment to diagnosis the issue. First, we identify the cause of the problem. Then, we work on finding the easiest way to reach the area and replace the damaged sewage line.
Honey Bee plumbers know the best ways to approach a variety of sewer drain problems. Maybe a tree root is blocking your drain or an old pipe has collapsed. Honey Bee Plumbing experts will find the source. And we'll brainstorm the most effective way to repair your sewer drain.
Sewer Line Replacement
Honey Bee Plumbing performs sewer replacement services when patchwork repair won't do. Our solutions are designed to last. We work quickly to lessen the impact on your home or business. Contact us to schedule an inspection. We offer affordable options for your sewer line problem.
Trust Your Sewer Drain Work to Honey Bee Plumbing
Stop throwing money down the drain. Honey Bee Plumbing is the safest option for your sewer drain repair or installation services. We guarantee it! Not happy with our work? Let us know, and we'll do what's needed to fix it. We're not done until you're 100% satisfied.
We also stand behind our work with a one-year warranty on parts and labor. When we replace a part for you, we expect it to last. Give us a call if it fails within 12 months of service for a free replacement.
We're the licensed, insured plumbing professionals you can count on for quality service every time!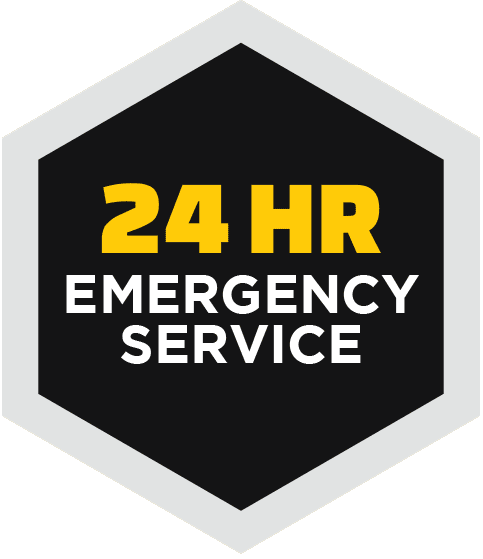 24 Hour Emergency Service