Drain Cleaning and Hydro Jetting
Residential and commercial drains can get clogged for a variety of reasons. Some clogs happen because hair, soap scum, and dirt collect form barriers that prevent pipes from draining. Others happen when leaves and other debris block water from moving through drains. That's why it's important to have Drain Cleaning and Hydro Jetting done on your property.
Clogged drains can cause serious problems, so it makes sense to have them cleaned by professionals that can ensure that the job gets done properly.
Cleaning Your Clogged Drains
Your service expert will have equipment that makes it possible for them to locate clogs and remove them from drains. Depending on your plumbing's issue, drain cleaning may include:
Using a small video camera to pinpoint the location of a clog.

Breaking up and removing clogs with electric plumbing snakes.

Hydro Jetting uses pressurized water to force debris out of pipes.
Hydro Jetting Keeps Your Pipes Clean
When standard drain cleaning doesn't eliminate clogs, Hydro Jetting can get the job done at an affordable price.
Hydro Jetting uses high-pressure water that cuts through difficult clogs and debris. With water pressure up to 4,000 psi, the Hydro Jetting technique blasts through grease, roots, hygiene products, and other items that commonly create clogs.
Instead of having a crew dig up your yard to replace a severely clogged pipe, you can get the same results from Hydro Jetting without paying the high price.
Drain Cleaning Maintenance Plans Prevent Clogs
Drain cleaning maintenance makes sure that your pipes never get clogged. Homeowners may want to have a professional clean their drains and pipes once a year.
Commercial property owners, however, may need more frequent drain cleaning. A monthly plan, for instance, will prevent clogs caused by commercial kitchen grease and other problems that commercial sewage systems face.
Honey Bee Plumbing guarantees that you will get the drain cleaning and Hydro Jetting services that you need. If you're not satisfied, then we will find a better solution to your problem.
Schedule your next drain cleaning with Honey Bee Plumbing to avoid clogs and draining issues. A fully insured plumber will come to your location at the scheduled time to inspect and clean your pipes.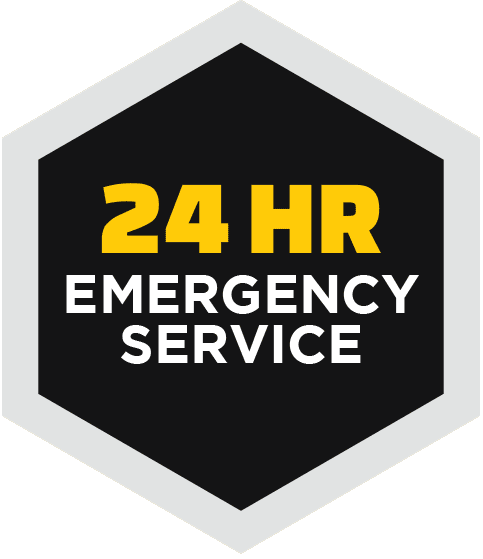 24 Hour Emergency Service